Precious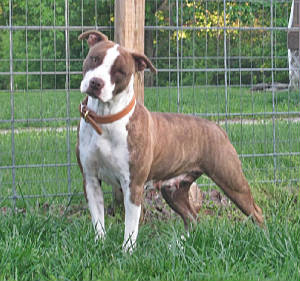 This stunning girl is Precious. Princess Precious is more like it...she is quite the little priss. Precious and her babies were surrendered to our local shelter because her owner was moving and couldn't take them. The shelter placed all the puppies, and now its my turn to find mama Precious a forever family, too.
Precious is a super sweet girl!! She is full of happy energy and she loves to play! She is a gorgeous reverse brindle bully girl. She is about 3 years old. She is very loving, and gets along very well with other dogs, and her best buddy right now is Kane.
Precious loves toys and chewies of any kind, and she LOVES to eat!! She is very food motivated making training easy. Precious is a high energy dog, and she is very excitable. She would likely do better in a home without very small children for those reasons, but would be absolutely fantastic for an active person or family.